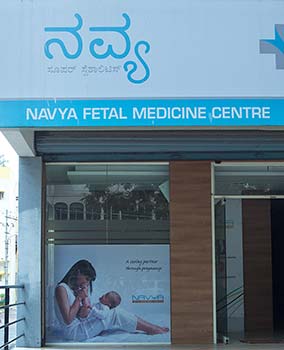 Navya Fetal Medicine Centre is first of its kind superspecialty centre in Mysore dedicated to fetal care during pregnancy.
Ultrasound scans are indispensable non-invasive tool which helps to assess fetal health.Understanding the unborn has been a challenge to a medical field. Fetal medicine is a highly specialized branch of obstetrics (pregnancy related) dealing with all matters that affect the health of fetus from conception to delivery.
It is specially deals care of fetus – identification and treatment of any problems which may arise to the fetus during pregnancy. Having a baby is one of the most joyous and exciting things in one's life. The nine months of journey is very precious.
As a part of antenatal care all pregnant mother are offered ultrasound scans to monitor the baby's health, development and check for any serious abnormalities. Early, more accurate screening gives peace of mind during pregnancy.
Ultrasound scanning uses sound waves (not radiation like in X-ray) therefore not harmful to mother or baby. As far as we know baby is unaware that scan is taking place. During pregnancy 3 scans are recommended. One during 3 month (NT scan), one during 5th month (anomaly scan) and the third one around 8- 9 months (growth & fetal well-being scan).
Dr Praveen N.S  – Fetal Medicine Specialist. MBBS, MD(OBG), DNB, MRCOG (London), MSc(Counseling), Advanced training in Fetal Meicine (RCOG, UK). Dr Praveen is MBBS graduate from Mysore Medical College, MD (OBG) from Aurangabad University Maharastra and obtained DNB in OBG (Diplomate of national board of examinations, New Delhi).
He is a member of Royal College of Obstetricians and Gynaecologists (MRCOG,London) and has completed advanced training in fetal medicine from London.He has worked at premier institutes such as Royal London Hospital,Kings college Hospital Londonand at Kings College has worked under Prof KyprosNicolaides (Father of Fetal Medicine).
With the objective of providing Fetal Medical services to the publics of Mysore and surrounding districts, he has established NavyaFetal Medicine Center in Mysore in Feb 2012.